Welcome to Repsol Honda Team – MotoGP
Race
Round 17
Air Asia Grand Prix of Japan
Japan
It has been another dramatic weekend with schedule changes and extreme weather conditions disturbing proceedings. However, this morning the MotoGP paddock woke up to sunshine for the first time this weekend. Once the early mist burned off, the morning Free Practice session was extended to 45 minutes as this was… read more.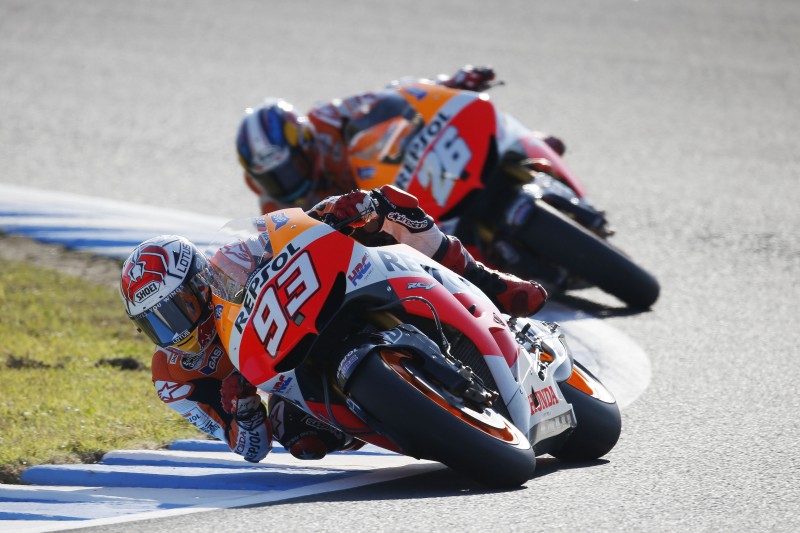 ---
Race
Round 16
Australian Grand Prix
Australia
It has been a remarkable day in Phillip Island for the MotoGP paddock, especially the Repsol Honda Team. After Race Direction last night changed the format of today's twenty-seven lap race due to tyre issues, this morning, the rules changed once again after more troubles in warm up. The new… read more.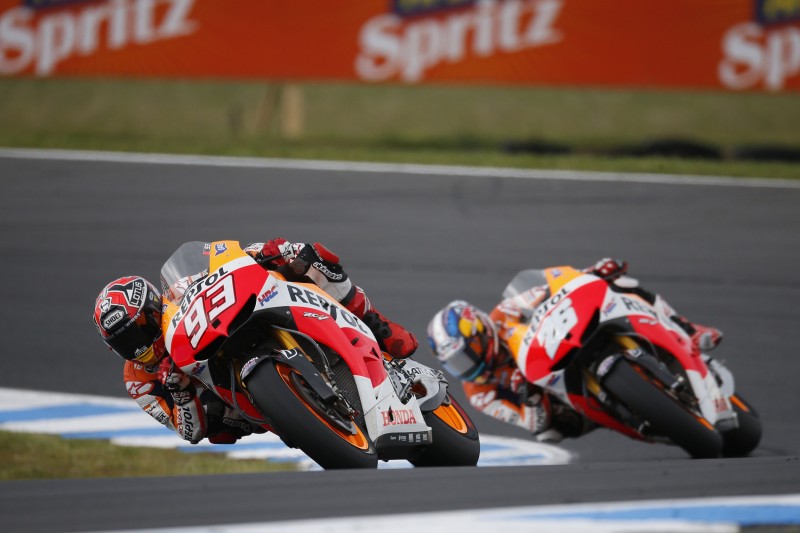 ---
Race
Round 15
Malaysian Motorcycle Grand Prix
Malaysia
Dani Pedrosa has taken back-to-back wins in the Malaysian Grand Prix after an emphatic win with teammate, and Championship Leader, Marc Marquez in 2nd, celebrating the team's fifth 1-2 finish of the season. Dani, starting from 5th on the gird, climbed up to 2nd position by turn one with Marc… read more.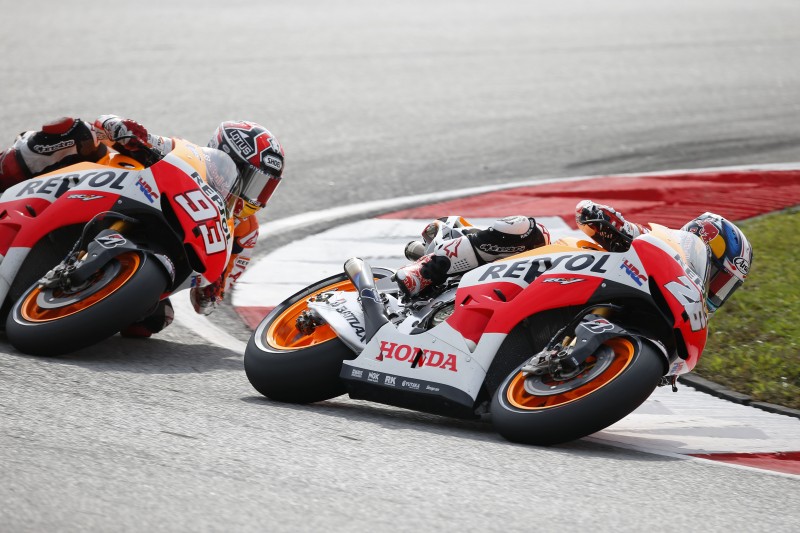 ---
Race
Round 14
Gran Premio De Aragon
Aragon
The Grand Prix of Aragón has been an event of mixed emotions for the Repsol Honda Team. Championship leader Marc Marquez, starting from pole for the seventh time this season, extended his Championship lead with a fantastic win – his sixth of the season, but en route he and teammate… read more.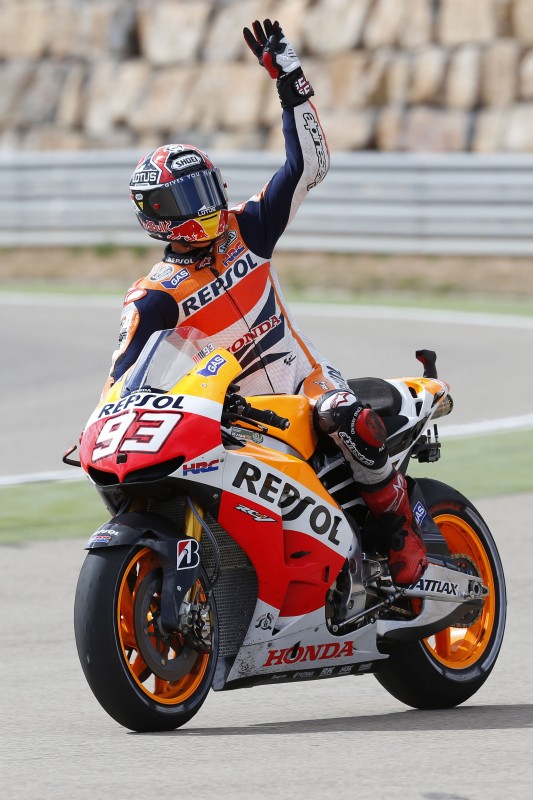 ---
Race
Round 13
Aperol di San Marino e della Riviera di Rimini
San Marino
Repsol Honda's Marc Marquez and Dani Pedrosa have put on a wonderful show for the 50,949 strong crowd in San Marino today and clinched the team's eighth double podium of the season, finishing 2nd and 3rd respectively. Pole man Marc dropped back at the start, losing two positions as Lorenzo… read more.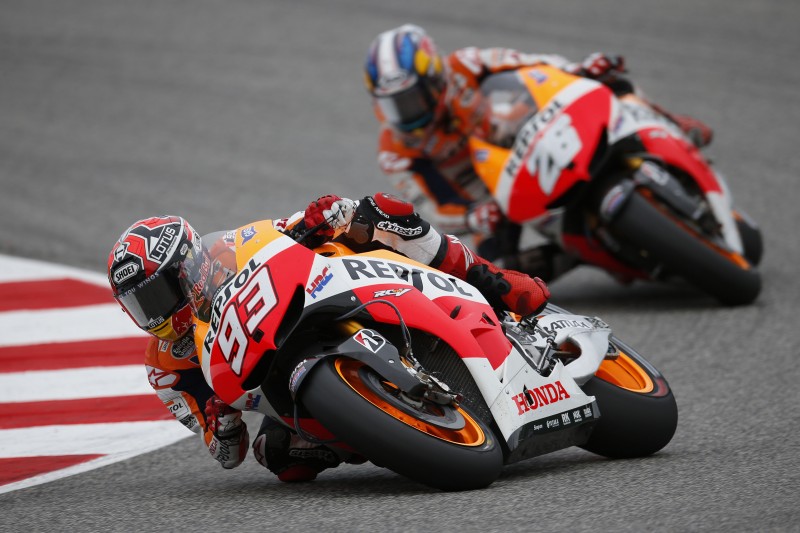 ---
Race
Round 12
British Grand Prix
Great Britain
Today marked the 200th race in the MotoGP class, since it was introduced in 2002, and Repsol Honda riders Marc Marquez and Dani Pedrosa have taken another double podium finish with 2nd and 3rd places. It was a difficult start to the day when in warm up Championship leader Marc… read more.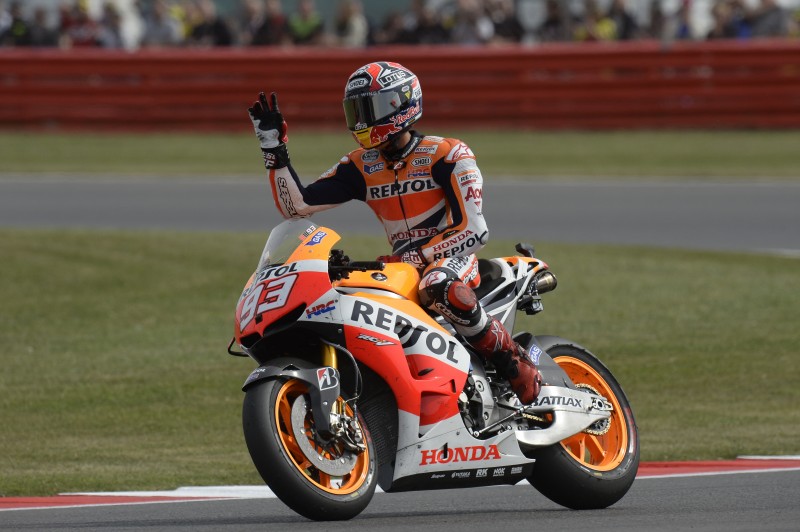 ---
Race
Round 11
bwin Grand Prix Ceske republiky
Czech Republic
Today in the GP of the Czech Republic, Marc Marquez and Dani Pedrosa recorded Repsol Honda's fourth 1-2 finish of 2013, with Marc taking his fourth win in a row – fifth of the year – something no premier class rookie has achieved in the 65-year history of Grand Prix… read more.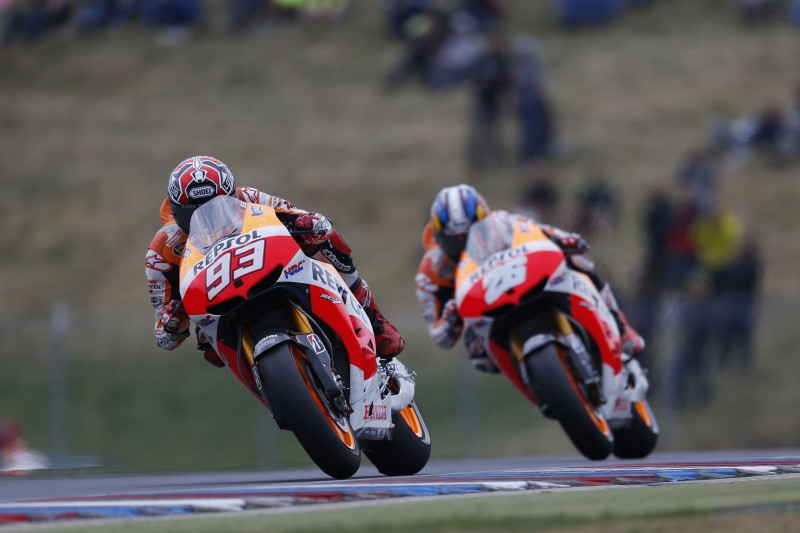 ---