Viewing Reports
Race
Round 1
Grand Prix of Qatar
Qatar
Marc Marquez and Dani Pedrosa took fourth and fifth place, respectively, in today's Qatar Grand Prix. The Losail evening was affected by mixed weather conditions that created quite a tricky situation. A brief, light rain shower fell just minutes before the planned MotoGP race time of 9 p.m., causing the… read more.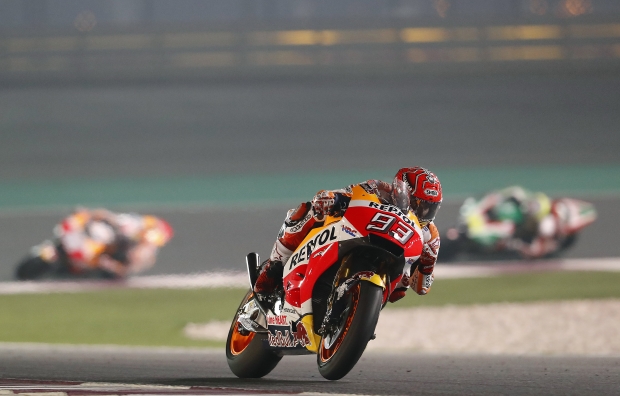 ---
Qualifying
Round 1
Grand Prix of Qatar
Qatar
All of this evening's sessions at Losail were cancelled due to safety conditions, when large amounts of standing water—left by an overnight rain and a long lunchtime downpour—didn't dry off throughout the afternoon and evening. Consequently, grid positions for tomorrow's 22-lap race will be based on combined free-practice times, meaning… read more.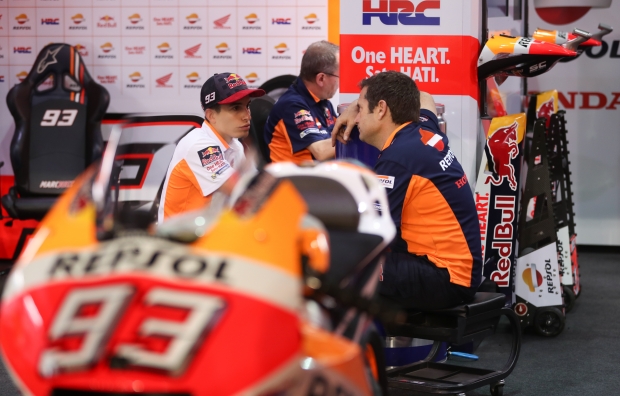 ---
Practice
Round 1
Grand Prix of Qatar
Qatar
A mix of rain and hail fell in the early afternoon of the second day of free practice in Qatar, adversely affecting the level of grip during both the FP2 and FP3 sessions. Marc Marquez and Dani Pedrosa continued working on the general setup of their bikes for the race,… read more.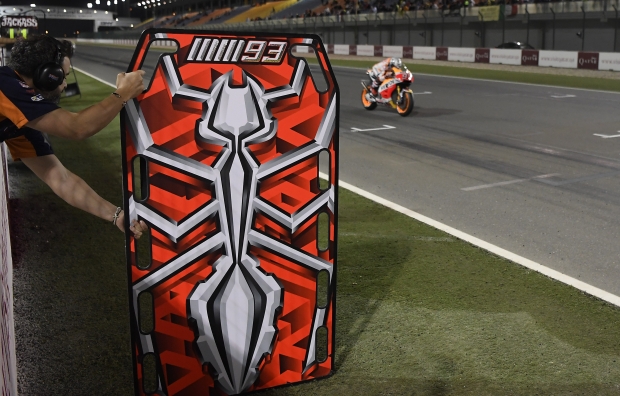 ---
Practice
Round 1
Grand Prix of Qatar
Qatar
Marc Marquez and Dani Pedrosa commenced their 2017 MotoGP campaign positively this evening in Qatar, setting the second- and third-fastest lap times, respectively, by the end of a single free-practice session that got underway at 7:55 p.m. local time. The Repsol Honda riders constantly improved their speed throughout the 45… read more.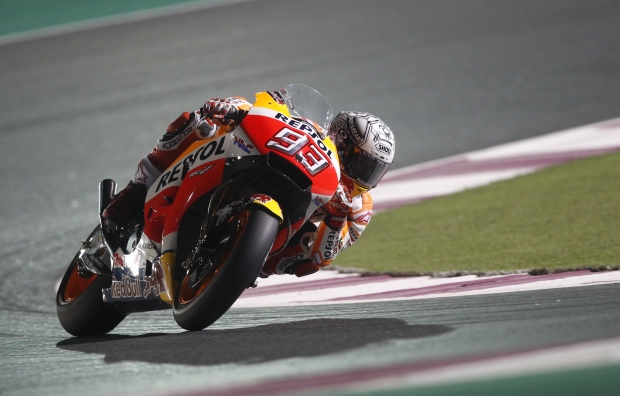 ---
Preview
Round 1
Grand Prix of Qatar
Qatar
Defending World Champion Marc Marquez and teammate Dani Pedrosa have arrived at Losail for the opening race of the 69th FIM MotoGP World Championship season. The only night race on the calendar and the only event to feature three days of practice, the Qatar GP will see the MotoGP FP1… read more.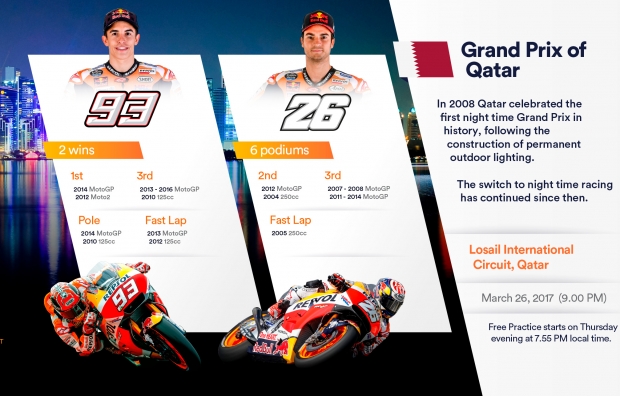 ---
Video 2017
Round 1
Grand Prix of Qatar
Qatar
NOTE TO THE MEDIA Kindly note this is a media copyright-free video edit for Broadcast and Online use. The edit cannot be altered, modified or interrupted in any manner, and cannot be used for any commercial purposes. To be made available online via streaming only, never on a download basis.
---
Testing
Qatar Official Test
Qatar
The 2017 MotoGP pre-season came to an end today with the third and final night of testing in Qatar. The timesheets saw Dani Pedrosa ending in third place (1'54.469" on lap 46 of 50), with teammate Marc Marquez 10th (1'54.990" on lap 12 of 47). Both of the Repsol Honda… read more.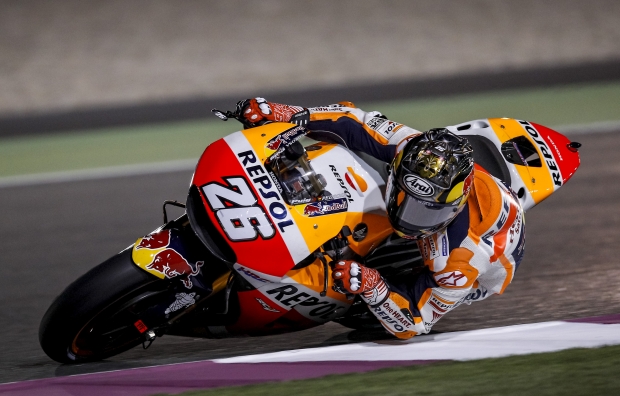 ---